Utility detection
We provide wide range of underground utility detection by GPR and Leica Ultra utility locator. GPR scanning method is unique technique to detect non metallic pipes including PCV, PVC, PCW, PE, concrete, water pipes, gas pipes, fiber glass, sewage and other voids or filled pipes, linear structures.
Thanks to our services you will safe time, money and reduce risk of utility damage during construction operation. Many damages of water lines or sewage system stopped for many days construction operation. Damages of gas lines are risk for human health and surrounded environment.
Thanks to 3D survey we are able to detect utility in 3D space. Thanks to orthogonal scans in grid we are able to detect linear structures transverse and longitudinal. Thanks to 3D technique we are able to reduce noise and diffraction influence. Thanks to advanced techniques of data interpretation we are able very efficiency estimate depth of buried objects. Our high density scans gives us possibility to detect wet areas caused by pipes spills.
We elaborate data in vector format as input data to BIM (Building Information Management) systems and as a update of laser scanning. We prepare data in CAD and GIS formats which can be easily imported to Autodesk family,  CADMATIC Plant Design and Autodesk Revit. At the client's request we prepare data in agreed format and structure.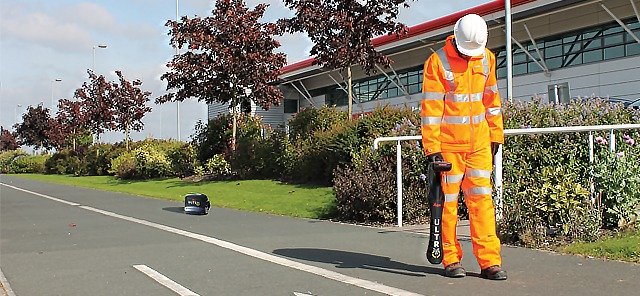 As a update of GPR survey we use utility induction locator. We work with Leica Ultra advanced system with signal generator. Thanks that we are able to detect metal pipes, electricity, underground power lines. For void pipes with access we use frequency sonde which we can put inside and detect on the ground (combine method with GPR).
The best solution to detect underground utility is combine several methods geophysical and induction depend on needs and specific of detection site.